In 2022 IDnext will organize yet another meetup. Keep an eye on our event calendar to check for updates on this event.
Last time,  IDnext organised IDnext Meetup, themed around 'Anonymous but well-known – digital identities under control'. The meetup was organised at Capgemini's.
More and more discussions pivot on digital identities, and specifically – but not only – on privacy. Existing methods do give users a firm control over their own identity, but does that make us really anonymous? One patented solution that makes this possible was presented during the Meetup. Another topic was how digital identities may be realised on the blockchain: the Self-Sovereign Identity Framework. And then eIDAS (an EU regulation agreeing to use the same terms, arrangements and infrastructure for access to online services) has been on its way for more than a year. It was about time to share the first experiences acquired with that.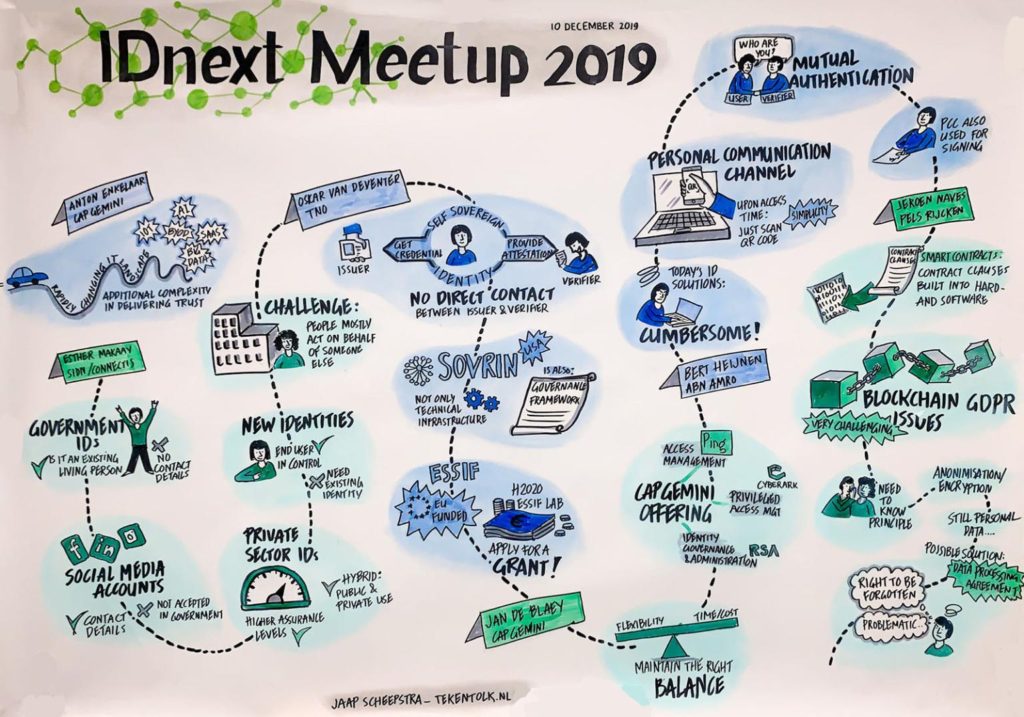 With this Meetup, IDnext and Capgemini provide a platform for public and private organisations to discuss these topics, taking into account the importance and the privacy of the digital identity, increasing (digital) awareness and thus also the interests from various perspectives.
During this edition we again had a wide range of speakers, including Anton Enkelaar, Esther Makaay (SIDN), Oskar van Deventer (TNO), Bert Heijnen (ABN AMRO), Jan de Blaey (Cap Gemini) and Jeroen Naves (Pels Rijcken).
Moreover, IDnext provides innovative organisations with a platform. This time, pitches were presented by Philip Kurtin, Yi-Chin Peng, by eigenlinks and Kirill Gandyl (founder of Wist Network), and we were inspired by Michiel Stoop, Inge de Ruijter (AB member of IDnext) and Ali Babakhan as well as by our own Jaap Scheepstra – interpreter-draughtsman.
The IDnext meetup was concluded with an end-of-year reception.