With the Identity Innovation Award, IDnext wants to recognize and support new developments that are shaping the future of Digital Identity. Submissions are innovative concepts, products or project.
The winner of the Identity Innovation Award of 2022 is:
DuckDuckGoose – They develop explainable AI solutions to detect deepfakes in audio-visual content. Deepfakes are hyper-realistic fake audio-visual data made and/or manipulated by AI. They seem so realistic that the unaided human eye can no longer recognize them. DuckDuckGoose leverages the power of AI to detect deepfakes in a fast, reliable, autonomous yet insightful and explainable manner. This means that the tool does not only classify a certain input as deepfake, but also explains the reasoning behind its decision. Currently, DuckDuckGoose focuses on distinguishing deepfake faces from authentic faces and is also developing multimodal audio and video deepfake detection algorithms.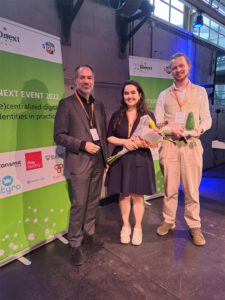 The other nominees for the Identity Innovation Award 2022 were:
Cheqd – Data is the new gold, and its value should be shared fairly. Cheqd's innovative contribution lies in its capacity to prove itself the enabler of this shift. Cheqd aims to provide simplicity, ease and fairness by inverting traditional data ownership models. Individuals create a single profile that they control themselves, delegating authority to companies and sharing the real value of their data. This makes it quicker, safer, and cheaper to onboard and transact. For the first time, individuals and the verifiers of identity, such as passport offices, banks, and utilities, are financially rewarded.
Nuggets– is a self-sovereign verified digital identity and payment platform that serves as the reusable, interoperable, and verified digital identity for Web 2.0, Web3 and the Metaverse. It enables trusted transactions that result in massively reduced fraud, and safer customer data. Trust in the system that supports our digital lives has been hugely eroded. Whenever customers sign up, transact or access services on-line they are open to fraud, security and privacy issues Businesses need to be compliant but without the privacy and security risks
Criteria for the award include:
o Innovation (technological as well as business model)
o Success; how the privacy aspect is dealt with
o Added value for users and for stakeholders
o The (potential) impact of the concept, project or product.
Previous winners of the Identity Innovation Award are:
. Asignio – Asignio offers a more secure way to sign-in with its multi-factor authentication – synchronous dual biometrics. With their patented signature recognition technology they created synchronous dual biometrics – more secure with two biometrics at once, sign-in & live selfie or voice & live selfie.
· Iovation – Iovation safeguards tens of millions of digital transactions a day, with the world's largest and most precise database of device reputation insights and cryptographically secure multifactor authentication methods.

· OpenID certification – The OpenID Foundation purposefully established a light-weight, low cost OpenID Connect certification program to help ensure that high-quality OpenID Connect implementations became the norm in the marketplace.

· Meeco – provides the means for individuals to have greater control of their identities and how they are used. They can share relevant information with trusted parties in a secure way to achieve the desired outcomes.

· Trulioo – provides a robust service for online verification of identities. Trulioo customers have access to over 140 data sources to verify identities 3 bilion on their value.
· idBCN – is a digital identity system provided by the Barcelona City Council as a free public service. idBCN allows citizens to identify themselves remotely and securely to a number of digital services by means of the digital ID in their mobile phone.
· eHerkenning – eRecognition is a Dutch e-identity trust framework that enables companies to re-use digital identities to authenticate themselves towards government organizations. Conducting business online thus becomes easier and more reliable.
· Edentiti – Edentiti provides online identity verification by checking information from various online data sources, and does so under the control of the end user.
· Ziggur – (Ziggur is a Dutch service that enables everybody on the worldwide web to decide what they want to happen to their online profiles & online belongings after their death. Ziggur makes sure the wishes regarding the digital inheritance of the deceased are fullfilled, thus burdening those who are left behind.
For more information about the Identity Innovation Award visit the website.