RWOT11 University Day
September 26, 2022 @ 1:00 pm

-

6:00 pm

eur25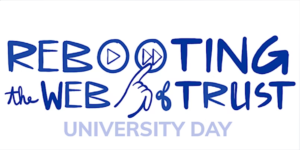 Learn about the exciting field of Digital Identity (aka SSI) and the EU Digital Identity Ecosystem.
In preparation for the international design workshop Rebooting the Web of Trust, we're welcoming industry leaders, policy makers, students and experts to join us in The Hague for talks surrounding the technology and business of decentralized digital identity.
We invited a distinguished group of world class experts in the SSI and decentralized identity space that share their knowledge in excellent learning session.
Christopher Allen opens with a talk on the current state of "Self-Sovereign Identity" and an array of leading experts will provide updates on tech and business ecosystems in digital identity.
RWOT11 University Day will run from 1pm to 6pm including networking, with an opportunity for all guests to stay around for the RWOT11 Opening Night Poster Sessions, which officially kicks off RWOT11 The Hague.
Don't miss the university day to learn about technology, business opportunities, ecosystem innovation and market signals from all around the globe including the EU Digital Wallet, EBSI and identity for Gaia-X. Enter a fantastic world of cutting edge digitization.
Find out more about the program here.